7 tips for incorporating business awards into your marketing strategy
Entering business wards can be a very effective all-in-one marketing strategy. Winning — or even just being nominated — puts you at the forefront of your industry, and it can greatly increase consumer confidence in your products or services, which can in turn help drive new sales. Additionally, attending award ceremonies can provide a fantastic opportunity for networking, as well as giving you a chance to showcase your most successful projects.
Here at Glass Digital, we've recently been nominated for 14 awards across at various local and national marketing awards competitions. While this is of course a testament to our exceptional performance across organic, affiliate, and PPC campaigns, it's also a fantastic form of marketing exposure in itself.
In this blog, we've shared some key things we've learned about making the most of awards, from finding categories to enter and submitting a strong application, as well as what to do if you are recognised with a nomination or a win.
Where to find awards to enter
Business awards are held in hundreds of industries, both nationally and regionally throughout the year, but finding them can be challenging. Reading publications within your industry or local area is a great way to see what is out there and find events close by that are relevant and beneficial to you.
Keeping an eye on social media should also be at the top of your to-do list. Search hashtags, follow like-minded companies and check regional organisations such as Chambers of Commerce and official marketing award websites to keep up to date with the latest happenings. A simple Google search for awards in your industry and area could also yield results.
Signing up for newsletters and updates will help with these decisions, too. Not only will you see which upcoming events with be taking place, but it gives you and your company a head start in the application process.
Which awards are right for your brand?
Often, the most difficult part is determining which awards are right for your company. A key part of a marketing strategy is maintaining relevance to your expertise and skillset, and this applies to your entry choices, too. Holding ideation sessions will help you to decide which of the awards suit your brand, and which campaign or staff member you would like to nominate.
Budget is another consideration. With most awards, the organisers will charge a fee for each entry, so set aside some of your marketing budget for this. If your budget will be limited, it may help to prioritise the awards that you feel you have the strongest chance of winning. Regional awards tend to be less competitive, and so offer a better return on investment.
Once you've got a shortlist of awards, check the final deadlines for entries and create a calendar. This will help you prioritise your entries and ensure you have plenty of time to prepare.
How to create a compelling entry
It probably goes without saying, but the easiest way to create an impressive entry is to submit examples of great work. So, keep a record of any noteworthy successes and achievements within your company throughout the year. These could be individual employee achievements, or they might be wider business achievements, like hitting a certain turnover or sales target. Having this information to hand will make preparing your entries a lot easier.
The judges will want to see proven, quantifiable results in your entry. So, back up your claims with evidence that demonstrates your performance, whether that's in the form of sales figures, graphs showing the growth of your company, or testimonials from happy customers.
Naturally, you'll want your entry to provide a compelling argument about why you should win. So, take the time to make sure it reads well and is free from spelling and grammar mistakes — if you have an in-house copywriter on the team, ask them to take a look for you.
How to increase your chances of winning
When it comes to winning awards, there's no substitute for great results and performance. However, getting your name out there via word of mouth and taking the time to build in-person relationships with contacts in your industry may help tip the balance in your favour. So, try to attend networking events wherever you can throughout the year. These events offer a great opportunity to build relationships with important contacts, and showcase your success and expertise in your sector.
Judges for business awards will normally meet and greet contestants during a short interview to help them make their final decision. So, seeking out networking events where you may run into them could give you a chance to build rapport and flex your knowledge before applying. It doesn't have to be a high-profile networking event — even just taking part in short coffee mornings or other informal meet-ups can be very beneficial. Plus, even if you don't win any awards, you will at least get your name out there and connect with some great contacts in your industry.
If you're nominated or win
If you scoop a nomination or win, congratulations! This is validation for all your hard work over the year. That said, the work isn't over just yet. Both winning and being shortlisted can present a fantastic marketing opportunity, so you'll want to really make the most of it, both ahead of the ceremony, and in the weeks afterwards.
Here, we've shared some tips that will help you maximise exposure following a nomination or a win.
Shout about it on social media
Be sure to share the good news on social media. Many awards ceremonies will provide graphics or videos you can share with your following, and often have hashtags you can engage with to help spread the word. You can increase engagement by interacting with other posts about the same event, too. So, leave comments and congratulate other nominees on their successes. Maintaining strong relationships with complementary industries and other businesses in your sector can lead to word-of-mouth recommendations in future.
Use it to sell your products or services
It's been proven that consumers are more likely to go ahead with a purchase if they can see that it's either won or been shortlisted for an award. For instance, brands that have won Product of the Year awards have reported a 10–15% increase in sales after adding the award logo to their products, with some uplifts as high as 135% (Business in the News).
It's quite logical that winning awards can increase sales: after all, it's a sign that your business is offering marketing-leading services or products. But, in order to get the most out of this, you'll need to make sure your customers can see it. So, be sure to include award logos on all materials relating to a nominated product or service. If your entire brand is recognised with an award, then be sure to display this prominently on your website homepage, perhaps using banner. And, be sure to add it to your social media bios or banner graphics as well.
Awards can be valuable and cost-effective tool to add to your marketing arsenal. So, it's well worth allocating some of your marketing budget towards entering awards in your industry — even if you don't win, getting nominated can still really help to get your name out there. 
If you're planning to overhaul your marketing strategy in 2022, the Glass Digital team can offer a full range of bespoke services that will help boost your organic search visibility, including outreach, content, affiliate and PPC services. To see what we can do for your business, get in touch to arrange a free consultation with one of our SEO experts today.
---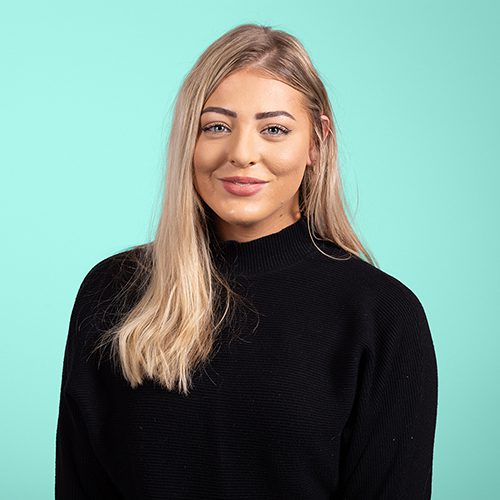 Senior Outreach Executive