5 hot topics from the brightonSEO SERP Analysis Summit 2020
On 17 December 2020, I attended the virtual brightonSEO SERP Analysis Summit to see what some of the SEO industry's leading experts had to say about making the most of search engine results pages (SERPs).
I shared some of my key takeaways on Twitter (click through to check out the thread)…
We'll be attending the virtual #brightonSEO SERP summit today and sharing all our favourite titbits! First up is @yvoschaap on "Spotting SERP Opportunities". #SEO https://t.co/dDMXGAovHV

— Glass Digital (@GlassDigitalLTD) December 17, 2020
…but I've also pulled together some thoughts and actionable tips on five of the event's hottest topics: SERP features, user intent, organic listings as free ads, Schema markup, and keyword grouping.
SERP features
SERP features are elements of Google results pages outside of traditional 'blue link' ads and organic listings. You can find more than 200 types in this SERP features database, which was shared by Yiğit Konur.
Examples include featured snippets, 'People also ask' boxes, knowledge graphs, video carousels, and local packs.
When putting together an SEO strategy and analysing results, most marketers concentrate on standard organic listings. However, SERP features often take up a huge proportion of SERP real estate and securing exposure in these spots can be incredibly valuable for your brand.
For example, over the past year (11 December 2019 to 16 December 2020), Advanced Web Ranking data shows that:
'People also ask' boxes appeared on 67.22% of mobile Google UK SERPs
Videos on 56.96%
Featured snippets on 14.6%
You can secure SERP features with onsite SEO, but you may also benefit from engaging with third-party platforms, such as YouTube, Twitter, and review sites.
Action: Use a rank-tracking tool (we recommend STAT) to learn what SERP features are common in your niche, especially on key SERPs, and implement strategies to occupy them.
User intent
Along with organic listings, SERP features expose what types of results Google wants to give — what the algorithm thinks users are looking for — explained Yvo Schaap in his talk 'Spotting SERP opportunities'.
You can use this information to guide your content strategy. For example, if a 'Compare similar products' box appears at the top of the SERP, it could be a good idea to create an article or video comparing the top products side by side.
However, in 'Intent graph: Deep analysis into search behaviour', Dateme Tubotamuno emphasised the importance of understanding searcher intent on a deeper level, getting to grips with the 'why' and not just the 'what'.
He explained that someone searching for 'running shoes' isn't just looking to buy trainers: there are deeper motivations at play, such as a desire to improve fitness or lose weight.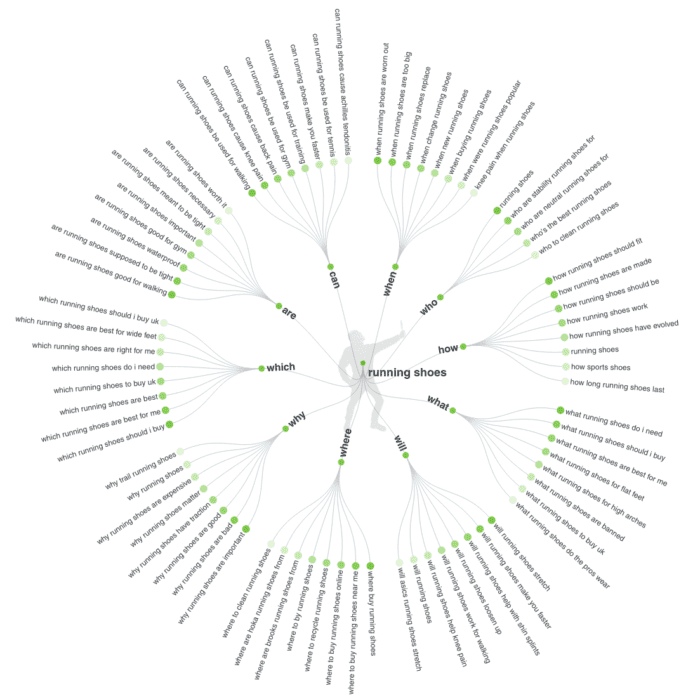 As Joanna Beech pointed out in 'How to stand out from the rest of the search results', keyword research can help to uncover these kinds of insights. You can then speak to potential customers on a more meaningful level and gain a competitive edge on the SERP and beyond.
Action: Consider consumer motivations on a deeper level to improve engagement and conversions. SERP feature analysis and keyword research provide good starting points.
Organic listings as free ads
Your search results can get >10x more eyeballs than they do clicks, according to Yvo Schaap.
So, don't just think of organic listings as a means to get clicks through to your site: think of them also as free advertisements for your brand. And remember that rankings data doesn't give the full picture.
Jason Barnard focussed specifically on exact-match brand queries, stating that your brand SERP on Google is the most important KPI you never looked at.
Search your brand name incognito now. What do you see?
If the SERP is boring, negative, or inaccurate, bear in mind that's what your prospects will see, too.
Now look at your competitors' brand SERPs. They should give you an idea of your potential.
You can enrich your brand SERP by optimising properties you control (domains) and semi-control (e.g. social media profiles, business listings) with SEO in mind. If there are any negative third-party results, generate and improve listings to push them down the rankings.
Action: Take the time to manually evaluate key SERPs, especially your brand SERP, and identify opportunities or areas for improvement.
Schema markup
Schema.org markup, sometimes referred to as structured data, is code that helps search engine crawlers to understand content. Using it effectively can help you secure a higher quantity and quality of SERP results.
As Martha van Berkel discussed in '10 things you don't know about Schema markup', there's allsorts you can do with it, such as:
Define concepts covered by referring to Wikidata
Explain relationships between topics using Schema paths
Provide easily parsable product specifications
Joanna Beech recommends creating Q&A pages and using FAQ markup to secure exposure in 'People also ask' boxes, which are taking up an increasing proportion of SERP real estate. 33% of brand SERPs have PAA boxes, according to Jason Barnard.
Action: Explore the possibilities offered by Schema and implement as appropriate in your content.
Keyword grouping
Done properly, keyword grouping can help you develop a stronger understanding of search demand in your niche — key to creating content that meets user needs.
While Harry Austen talked about using the R programming language to categorise keywords, which you can learn more about in his blog post, Zoe Coleman explained how marketers can use Microsoft BI to visualise keyword data and prioritise opportunities.
One of Coleman's top tips was to look at year-on-year growth in search activity so that you can identify rising keywords and get a head-start over competitors.
Action: Whatever system you use, make sure to categorise keyword data so that you can develop a stronger understanding of search volumes and searcher intent. You can then build a content strategy to suit.
Looking for an SEO agency that can create high-quality content and help you secure valuable SERP exposure? Take a look at our organic search case studies to get an idea of what we've achieved with brands like yours.
---