How to win online sales from direct-to-recipient gift shoppers
If your site sells anything giftable, you could benefit from improving the gift-sending — and gift-receiving — experience.
There were 82,900 Google UK searches for 'send a gift' in 2020[i], a year-on-year increase of 291%. And while the demand for direct-to-recipient gifts is likely to die down as restrictions on shopping and meeting loved ones continue to ease, there's still a huge opportunity for e-retailers.
After all, the online gift market is worth an estimated $26 billion (~£19 billion) per year[ii], and many pandemic-led shopping habits are here to stay.
Read on for tips that will help you attract and convert gift shoppers — and impress their recipients.
Don't spoil the surprise
Branded packaging typically improves the customer experience, but the opposite is true when it comes to direct-to-recipient gift purchases. A lot of the time, buyers arrange for presents to arrive early, and having your logo plastered on the parcel could spoil the surprise.
If you specialise in gifts and your brand name is a bit of a giveaway, it might be worth defaulting to plain outer packaging. The Diamond Store adopts this policy (also for security reasons) and communicates this information on every product page. It also has an FAQ and video with extra detail, helping to put shoppers' minds at rest.
Alternatively, you could offer plain packaging as an option or upgrade. Gookie Dough charges 20p and makes the option clear at checkout.
You could also help gift-sending shoppers out by offering 'Do not open until [date]' labels, something a lot of online greeting card retailers have adopted.
Think about gift wrapping
One of the biggest downsides of buying direct-to-recipient gifts is that you don't have chance to wrap them yourself. Retailers should therefore make sure to showcase any attractive packaging via product photos and descriptions.
You might also want to offer a gift-wrapping service. This could make a serious difference to your conversion rate as well as increasing profits, although there are of course logistics to consider.
Buyagift allows customers to choose between a standard envelope, a premium gift box, and an e-voucher. All three options are presented at checkout with clear descriptions and pictures, making it easy for shoppers to decide which works best for them.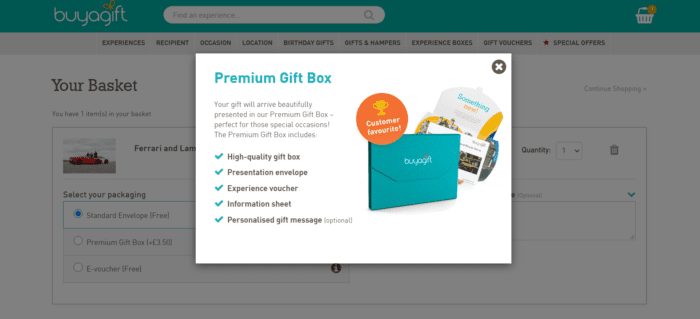 Deliver to the right place at the right time
Gift buyers usually need their order to arrive before a particular date, such as a birthday or Christmas, so clearly communicating delivery times is crucial.
If you can, cater to the last-minute gift market with speedy shipping services. Last year on Google UK, there were:
18,930 searches for 'last minute Christmas gifts'
39,800 searches for 'same day delivery gifts'
139,500 searches for 'next day delivery gifts'
It's also a good idea to highlight 'letterbox gifts'. Orders that can be posted straight through the recipient's door are often favoured, because they offer reassurance that they'll be received.
Another way to provide this confidence is to offer nominated-day delivery. This also allows organised shoppers to delay the dispatch of early gift purchases — particularly useful when it comes to perishable gifts, like flowers or food, or services with limited redemption dates.

Bear in mind that gift shoppers are likely to have even more delivery questions than usual when arranging shipping to someone else's address. After all, they want to make sure that the recipient receives the order on time and without hassle.
For example, will the recipient need to sign for the parcel? What happens if no one's home to receive the order? Can you deliver to a hospital? Liaising with your customer service team is a great way to identify questions that need answering onsite. I'd also recommend taking a look at the Interflora FAQs for inspiration.
Consider confidentiality
Shoppers typically don't want gift recipients to know how much they spent. They might even want to remain anonymous. As a result, traditional packing slips pose a problem.
One solution is to go paperless. By offering e-receipts only, you'll circumvent confidentiality issues with gift orders and save money. However, this can cause issues at customs and non-gift customers might prefer to have paperwork for their records.
Another option is to follow in The White Company's footsteps by offering gift receipts/invoices — in other words, packing slips without pricing or billing information.
Provide gift notes
It's likely that the recipient will want to include a message with their gift, even if it's being sent anonymously. You can therefore secure more sales, and potentially increase your average order value, by offering personalised gift notes or cards.
Hotel Chocolat ticks a lot of boxes by offering nominated-day delivery, gift wrapping, and free personalised message cards. They also make it easy for customers to create gift hampers, which could make a real difference to their conversion rate and average order value.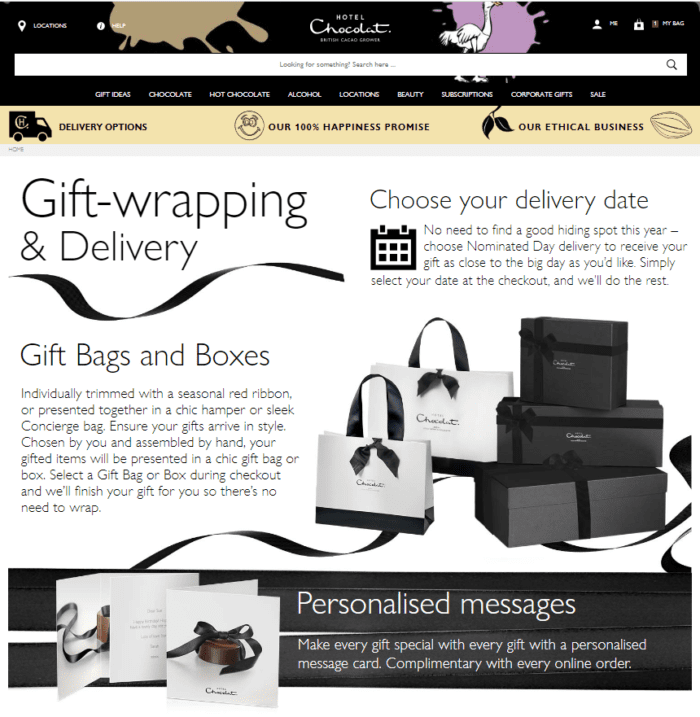 Go digital
If you don't already offer digital gift cards, now could be the time to reconsider. These are a convenient choice for direct-to-recipient and last-minute gift shoppers, so can help to boost revenue and introduce your brand to new audiences.
You don't have to offer traditional gift card values, either. Vouchers that can be redeemed against subscriptions, experiences, products, or services allow shoppers to choose more personalised and thoughtful gifts, potentially increasing the chance of conversion.
John Lewis delivers a great user experience by allowing shoppers to personalise, schedule, and preview e-gift cards and vouchers. A range of designs caters to different recipients and occasions, which helps buyers to feel more confident in their purchase and gives recipients a positive first impression.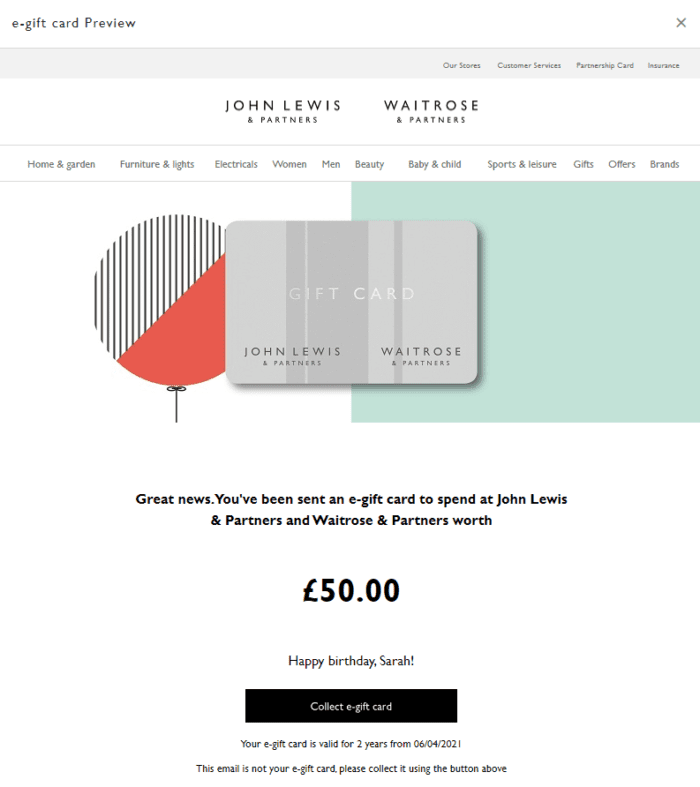 Shoppers enjoy the convenience of buying gifts online with delivery straight to the recipient, but they can be put off if they're not sure exactly what their recipient will experience.
If you want a bigger share of the online gift market, it's crucial to optimise your offering with both audiences in mind and communicate useful information throughout the customer journey.
Need expert help securing more ecommerce sales? Learn more about our SEO, PPC, and affiliate marketing services.
---
[i] All search volumes from https://ads.google.com/intl/en_uk/home/tools/keyword-planner/
[ii] https://start.askwonder.com/insights/online-gift-industry-uk-global-outlook-2-du34pdtm9
---