Google Search Console's request indexing tool is back
On 22 December, Google took to Twitter to announce that it had reenabled the request indexing tool within Search Console.
The search engine announced it would be disabling this feature back on 14 October, saying: "We have disabled the 'Request Indexing' feature of the URL Inspection Tool, in order to make some infrastructure changes. We expect it will return in the coming weeks. We continue to find & index content through our regular methods, as covered here."
Marketers expected it to return before the Christmas season. However, it's finally been reintroduced this week, as the busiest shopping period of the year is quickly coming to a close.
Google's initial tweet about the return of this feature said: "We're glad to announce that 'Request Indexing' is back to the Google Search Console URL Inspection – just in time for the new year!". They also included a link to a guide about their URL Inspection Tool, which outlines how to use the feature.
In a second tweet, the search engine offered a couple of reminders, saying:
If you have a large number of URLs, you should submit a sitemap instead of requesting indexing via Search Console.
Requesting indexing does not guarantee indexing. Google will prioritise high-quality content.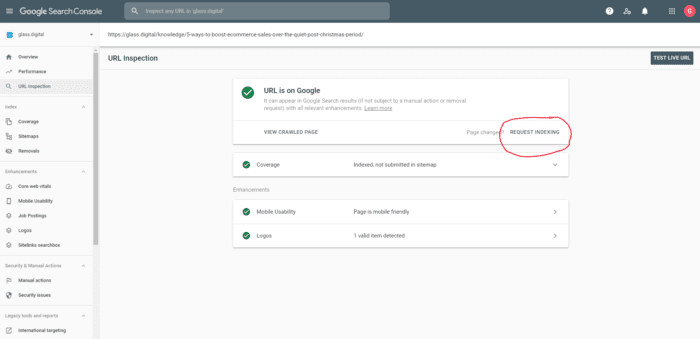 While the tool was disabled, marketers weren't able to request the indexing of old URLs with new content or point Google in the direction of new pages that they had created. As a result, they would have to wait for Google to automatically crawl these pages before they were indexed. Many SEO experts missed the option to speed things up and will be glad to see that this tool is available again.
As Google has mentioned, making a request doesn't guarantee that the search engine will index or rank your pages. However, if you want to increase the chances of Google indexing new content quickly, or want to ensure that content updates are reflected in the search results as soon as possible, it's well worth submitting URLs manually.
If you would like expert help navigating Google's frequent updates and improving your online visibility through its SERPs, our organic search experts can help. Get in touch today and we'll be more than happy to discuss what we can do for you.
---