Does Google's update mean featured snippets are no longer worth owning?
The URL occupying the featured snippet will no longer get an additional standard listing on the same search engine results page, Google Search Liaison Danny Sullivan announced on Twitter last night.
If a web page listing is elevated into the featured snippet position, we no longer repeat the listing in the search results. This declutters the results & helps users locate relevant information more easily. Featured snippets count as one of the ten web page listings we show.

— Danny Sullivan (@dannysullivan) January 22, 2020
Featured snippets appeared on 10.71% of Google UK desktop results pages on 22 January 2020, according to Advanced Web Ranking.
UPDATE:
I asked @seoClarity to look at their huge ranking database to see the effect of Featured Snippet deduping on Google. On 1/22 89.5% of queries with a FS also had a regular SERP listing for the same URL. Today that's down to 0.8% #SEO

— Mark Traphagen (@marktraphagen) January 23, 2020
What does this mean for my rankings?
The update rolled out globally on 22 January 2020 and means that earning the featured snippet no longer gives you double exposure on the first page of Google.
On the other hand, on search engine results pages where you don't own the featured snippet, you now have one less search listing to compete against.
Rank-tracking software may struggle to showcase the impact on rankings — RankRanger is currently showing that featured snippets have disappeared, seemingly due to difficulty tracking the change.

UPDATE:
For those asking, this causes no change in Search Console performance reports. We only log the topmost appearance of a URL as its position. Featured snippets were already counted, duplicate appearances were not. See also: https://t.co/7nR7CfWd2S

— Google SearchLiaison (@searchliaison) January 23, 2020
Are featured snippets still worth it?
Owning the featured snippet will still give you prominent exposure on a search engine results page. However, Ahrefs data shows that the featured snippet only attracts 8.6% of clicks, whereas the standard listing below receives 19.6% of clicks. And last night's update means that the same page can no longer occupy both positions.
So, earning the featured snippet may no longer be in publishers' best interests.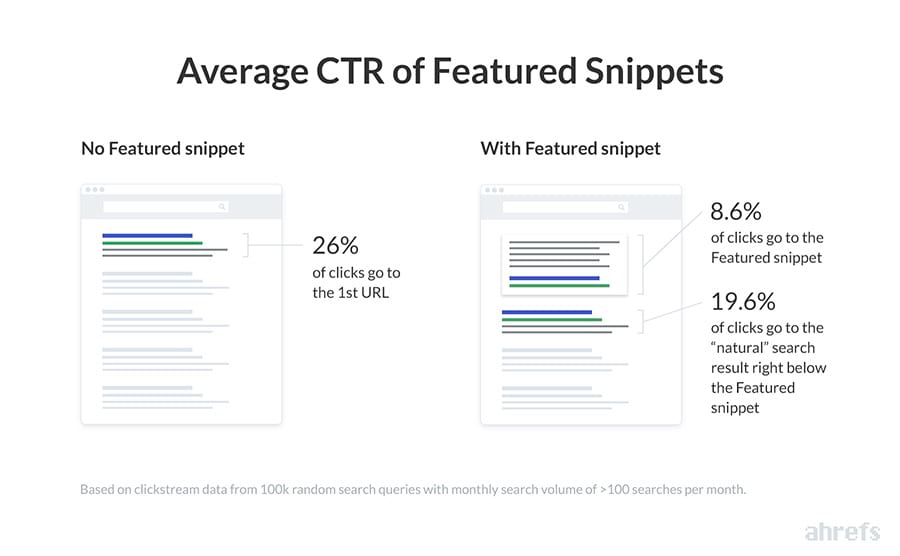 This led some search marketers to consider "de-optimising" for the featured snippet but, as Moz's Dr Pete Meyers rightly pointed out, this risks your chance of earning any kind of ranking.
"De-optimizing" has a misleadingly innocent ring to it, but let's call it what it is — making your page less relevant on purpose. That has implications far beyond Featured Snippets on your organic CTR.

— Dr. Pete Meyers (@dr_pete) January 23, 2020
Instead, I expect to see more publishers opting out of featured snippets using the nosnippet tag. And that could eventually hinder Google's ability to deliver high-quality featured snippets.
Want to keep up with the biggest SEO industry updates? Make sure to follow us on  Twitter,  Facebook or  LinkedIn. And, if you're looking for an affiliate marketing, PPC, or SEO agency that can help boost your online visibility, get in touch to discuss this with us today. 
---