How to boost ecommerce category rankings with internal links
Writing optimised category-level content helps improve relevancy for target keywords and engage potential customers, but it also presents an opportunity to build contextual internal links to other ecommerce categories — a strategy that has a number of benefits:
Helping users find what they're looking for, ultimately increasing conversions
Distributing PageRank (link equity) to some of your most important commercial pages
Improving Google's understanding of category structure and content, boosting rankings of linked pages in particular
As this tweet from Webmaster Trends Analyst John Mueller shows, Google supports the use of natural internal linking.
No, feel free to link naturally within your site!

— 🍌 John 🍌 (@JohnMu) January 4, 2019
However, unnatural linking can be harmful. Too many internal links, especially those with keyword-rich anchor text, will make your body content spammy and distract users. Plus, PageRank is split across all on-page links, so this benefit is diluted the more there are.
So, how do you decide which internal links to include in your ecommerce category content?
The argument for parent, sibling and child links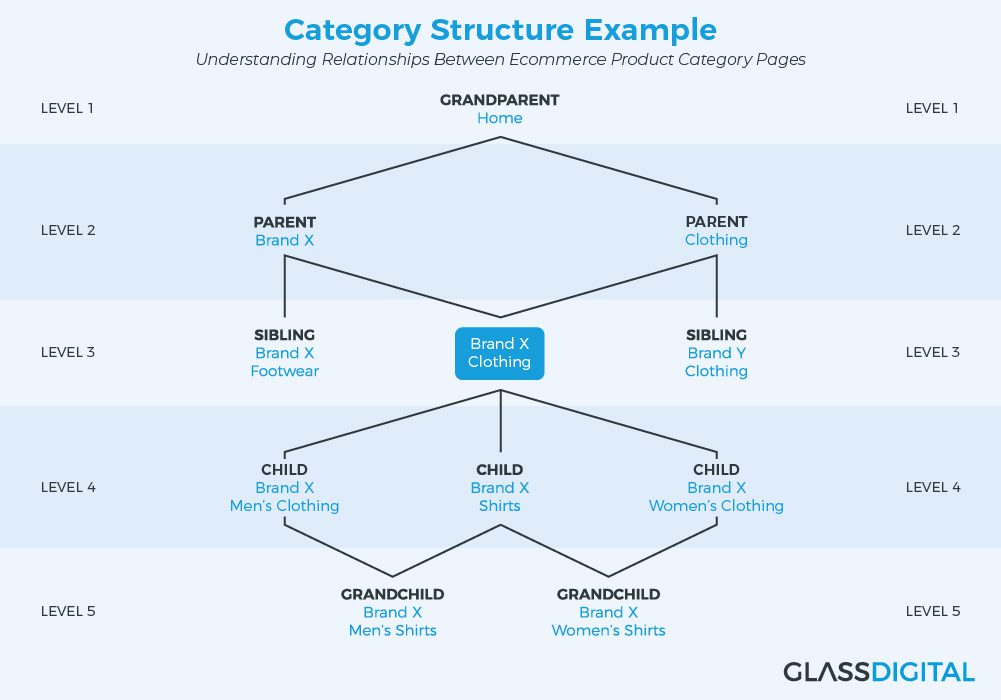 When deciding what internal links to include in category-level content, I always begin by shortlisting parent, sibling and child pages.
Parent pages are categories housing the page you are working on, one level up in the hierarchy. You would link to these pages in a "see in the wider range" context.
Sibling pages are at the same level as the page you are working on and have at least one parent page in common. It's generally a case of swapping one attribute for an equivalent — for example, 'men's clothing' is a sibling of 'women's clothing'. You would typically link to siblings in a "you might also be interested in" context.
Child pages are immediate subcategories of the page you are optimising. You would usually reference them in a "narrow your search" or "this range includes" context, which makes them useful for funnelling the customer towards a purchase.
By their very nature as 'direct relations', parent, sibling and child pages make highly relevant internal link destinations. This means users are more likely to find what they are looking for and make a purchase, and that your content looks natural to Google.
Narrowing your internal link options to parent, sibling and child pages also results in a natural spread of links across your site, which improves crawl efficiency and indexation. This includes deep links, which can help you secure valuable long-tail keyword rankings.
In summary, this strategy prevents you from falling into a very common trap: only linking to your most popular categories or categories with the highest search volumes — an approach that can leave potentially valuable pages neglected and make your content unnatural.
That is not to say you should ignore these kinds of factors — in fact, in the following section, I am going to explain how other metrics can help you shortlist internal link options further and make smart anchor text decisions. Plus, there are instances where linking to more distant relations, such as grandchild pages, can be beneficial. However, focussing on parent, sibling and child pages is an effective way to keep your internal linking strategy on the right track.
Prioritising your internal links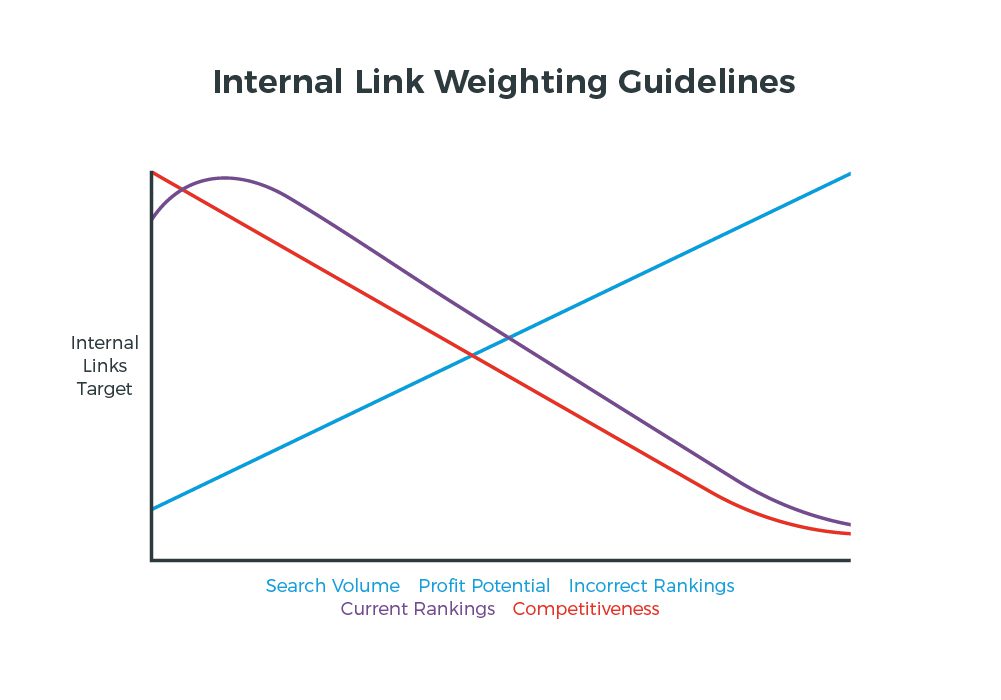 It is rarely possible to naturally incorporate internal links to every parent, sibling and child page within category content. In our experience, between three and six internal links strikes the right balance in descriptions around 150 words, delivering net benefits to rankings and conversions. We would not recommend using optimised anchor text for every internal link, either, as this will harm the quality of your content and give you an unnatural link profile.
There are a number of factors that can help you decide which internal link destinations will deliver the most value and the optimal anchor text to use. I am going to explore five of them: search volume, profit potential, incorrect rankings, current rankings, and competitiveness.
Search volume: Which pages have the highest demand?
If a category receives little to no search volume, there is limited benefit in boosting its rankings with optimised internal links. Low search demand also indicates that the category is unlikely to be of interest to onsite visitors. So, prioritising internal links to higher-volume pages is generally better for SEO, user experience and conversions.
You can get a good idea of a page's search demand by comparing primary keyword volumes. For example, "black sofas" receives 2,900 searches per month while "red sofas" receives 880 (Google Keyword Planner), so you should prioritise black when it comes to internal linking.
However, the best way to understand searcher appetite is to look at the total search volume of all relevant keywords — for a 'black sofas' category, this would include the likes of "black couches" as well as "black sofas".
Either way, performing this level of keyword research as you go is time-consuming and repetitive. I would instead recommend investing time into creating a keyword mapping — a spreadsheet that lists your target keywords, their search volumes and the URL you would like to rank for each one. You can then quickly compare search demand for internal link candidates and use the keyword data to make anchor text decisions. We have created an Excel template to get you started.
Glass Digital – Keyword mapping Excel template
Profit potential: Which categories deliver the highest returns?
It makes business sense to direct visitors to product categories with the highest conversion rates or profit margins more regularly, so keep these in mind when building internal links.
However, unless these pages also have good search potential, they are probably not worth prioritising when it comes to optimised anchor text.
Incorrect rankings: Do you need to increase page relevancy?
Google wants to rank the most relevant result on your site for any given keyword, but it does not always get it right. This might be because of internal competition (or keyword cannibalisation), whereby another page:
has content that appears to be more relevant;
has incoming links that suggest it is more relevant; and/or
appears to be equally relevant but has more authority.
It could also be down to low page quality or technical errors, whereby the page you want to rank (the preferred page):
has not been indexed by Google;
has low authority, perhaps because it is new, is buried deep within the site's structure or has limited incoming links; and/or
has a lack of content or poor-quality content, so Google is struggling to assign relevancy.
Helping Google to recognise the more relevant page should not only improve rankings, but also ensure searchers who do click through are more likely to convert. One way you can do this is to build internal links with descriptive anchor text, which act as signposts for Google. This is particularly effective if you link from the ranking page to your preferred page using the keyword in question as anchor text.
For instance, if /sofas/ were outranking /sofas/black/ for "black sofas", it'd be worth updating the /sofas/ content with a line like "our range includes black sofas…".
Current rankings: How well are the pages performing?

You will typically see the biggest jumps in organic traffic when a keyword rises from:
the second page to the first page;
the lower first page to the top three; or
positions two or three to the top spot.
So, keywords ranking in positions 2–20 have the most to gain from a small boost and should therefore be prioritised when internal linking.
Competitiveness: What are the chances of ranking well?
Low-competition keywords present a great opportunity to secure high rankings, and optimised internal links can help your cause.
There are a number of SEO tools that offer an evaluation of keyword competitiveness. Moz, for example, offers "a score from 0 (easy) to 100 (difficult) that estimates how difficult it is for you to rank higher than current competitors on the first page of search results".
If you don't have access to a tool like this, you can get a good idea of competitiveness by analysing the SERP for your target keyword. Making sure to search incognito so you don't get personalised search results, consider factors like:
Brand power: Ranking highly is more difficult when you're up against big brands with lots of authority.
Page quality: How useful and relevant are the top-ranking pages? Can you realistically deliver a better search result?
SERP features: With features like Google Shopping and video carousels taking up more real estate on the SERPs, the #1 organic result can struggle for attention. So, you might be better off trying to rank for queries that generate fewer distractions.
Summary
We have found that naturally incorporating parent, sibling and child links into category-level content is an effective way to improve conversions and organic performance. If you really want to hone your internal link weightings and make informed anchor text decisions, conduct some additional research and look to prioritise:
keywords and categories with the highest search demand;
categories that deliver the highest profits;
keywords for which the incorrect URL is ranking;
keywords ranking in positions 2–20; and
low-competition keywords.
Looking for an SEO agency that can optimise your ecommerce category content and strengthen your link profile? Contact us today on 0191 338 6903 or info@glass.digital to find out more.
---