LGBTQIA+ History Month: Stand-out brands that have promoted inclusivity in their marketing campaigns
As February welcomes LGBTQIA+ History Month, we wanted to take a look back at some of the best marketing examples of the past that have helped to educate and promote inclusivity.
There have been some exceptional campaigns over the past few years that not only support the LGBTQIA+ community but go one step further, helping related charities by using their platform as a way to give back. In fact, many well-known brands have collaborated with celebrity influencers in the past to increase support, such as Lil Nas X's collection with UGG and Cher's iconic partnership with Versace.
Social responsibility has become an increasingly important talking point within businesses over the past decade and brands are now recognising how vital it is to support causes that represent all colleagues and customers, as well as investors and business partners.
But showing support means more than just swapping your logo colours and calling it a day. The best LGBTQIA+ campaigns are thoughtful, respectful, and often educational. With more businesses recognising their platform, marketing teams are thinking hard about how they can create an impactful campaign that advocates for inclusivity. In honour of LGBTQIA+ History Month, we've searched the archives and rounded up some of the best marketing examples from previous years that have gone above and beyond to demonstrate social responsibility during and after their campaigns.
Skittles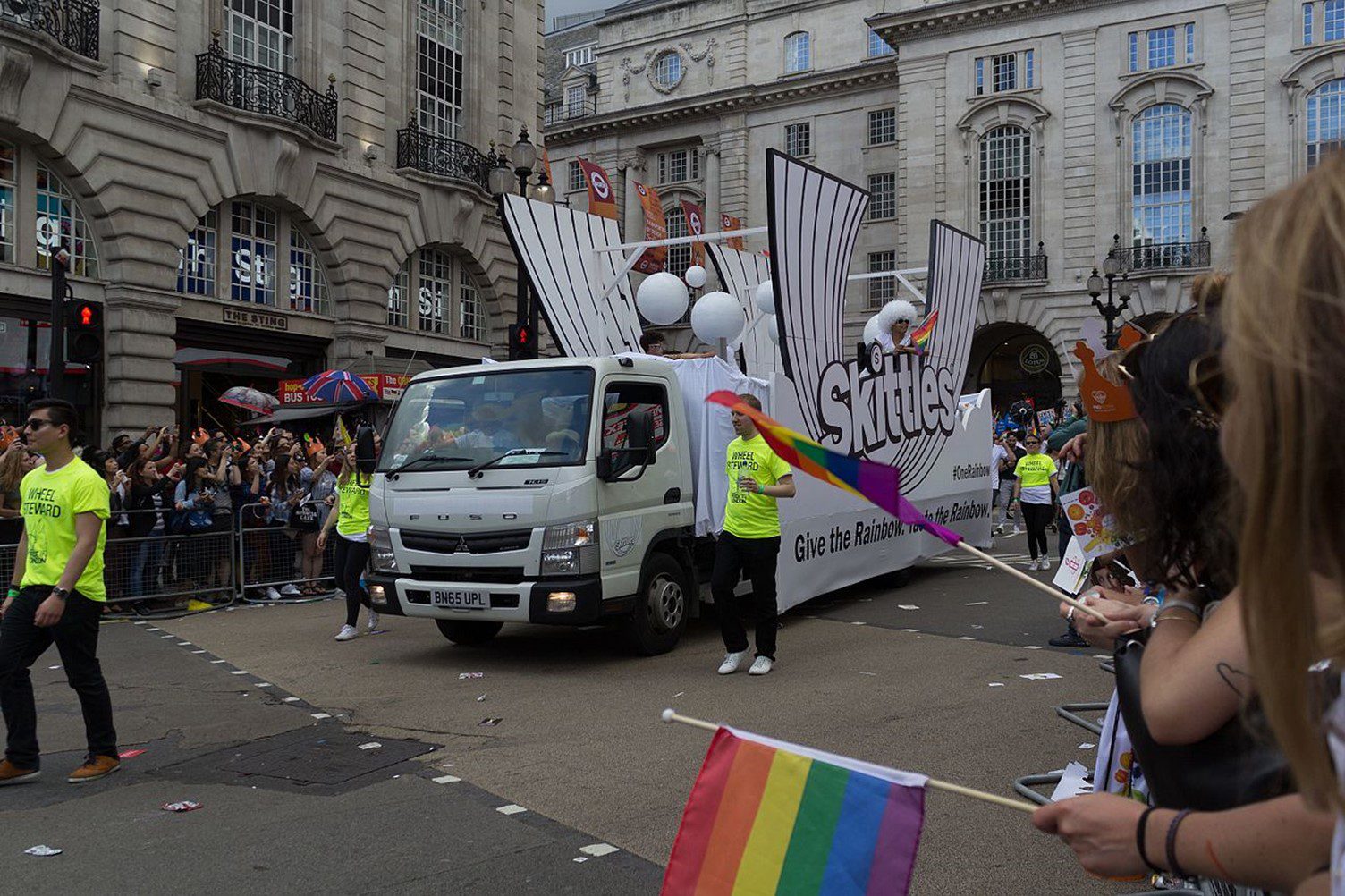 Pride in London 2016, by Katie Chan, licensed under CC BY 4.0
For the past few years, Skittles have created limited edition packaging for Pride Month which removes all colouring from their sweets. They've also added the message "We're giving up our rainbow to celebrate the one that matters". Coincidentally, this fits perfectly with the brand's everyday slogan "Touch the rainbow, taste the rainbow".
The reason this campaign had such a powerful impact is down to the message it displays. As a usually colourful brand, Skittles become a bland/white brand to show solidarity in the notion that for years the Gay Pride community have been silenced.
For Skittles, this campaign was not just about removing their own colours. Last year, the company partnered with media company GLAAD to allow LGBTQIA+ artists to add a 'splash of colour' to their bare packaging to give them creative freedom. The company also promised to donate $1 from every Skittles pack purchased to GLAAD's culture-changing work, supporting efforts to combat discrimination to create a longer-term impact.
Absolut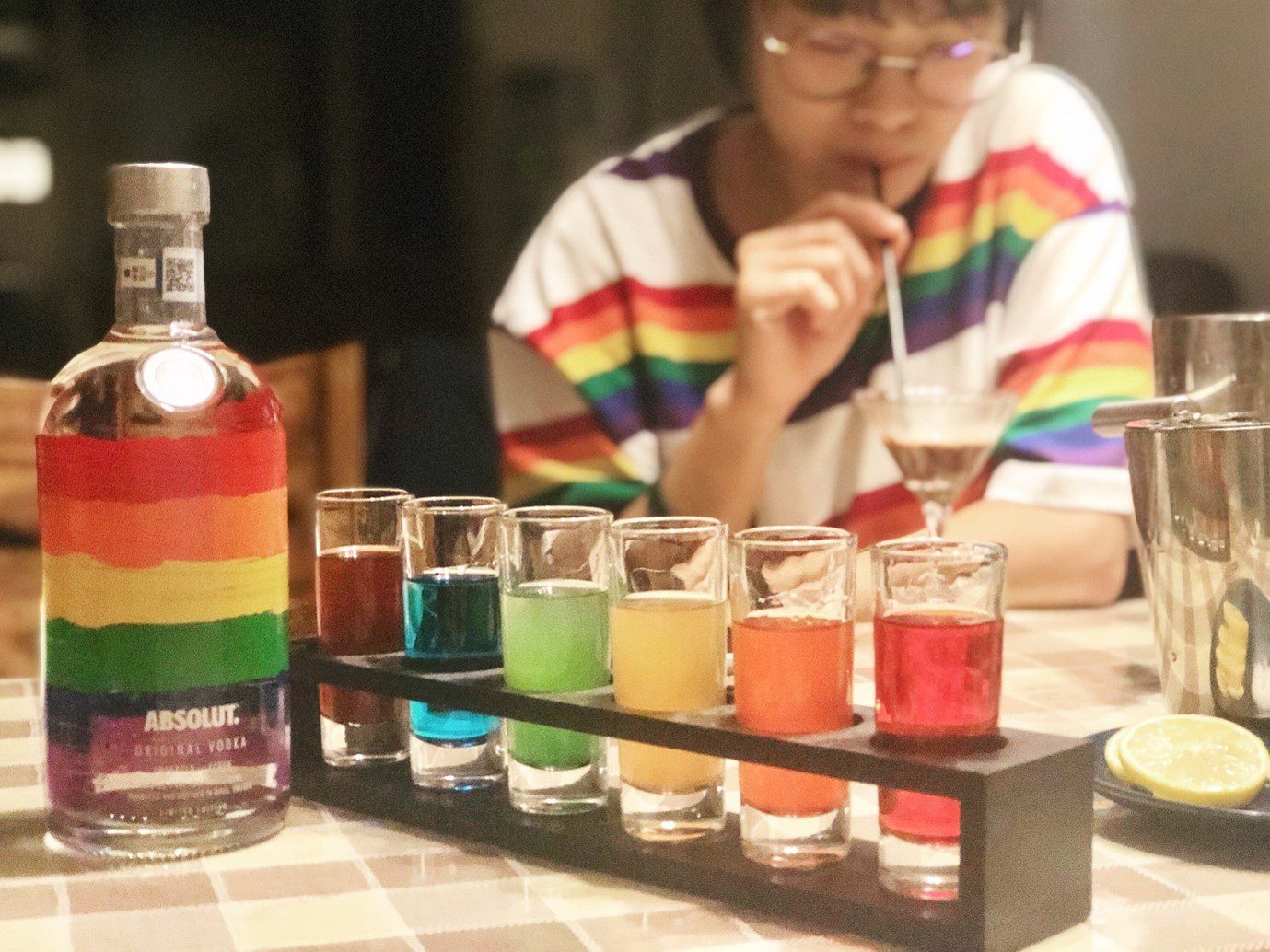 Rainbow cocktail, by Dawn He, licensed under CC BY 4.0
Popular vodka brand, Absolut, have created a limited-edition range (Absolut Rainbow) to demonstrate their support of the LGBTQIA+ community over the past 40 years. The signature rainbow bottle has been around since 2008, when the brand collaborated with artist and activist Gilbert Baker who was the designer of the original Pride rainbow flag.
The reason this endorsement works so well is because Absolut go above and beyond to make sure they are recognised as supporting the LGBTQIA+ community all year round. The company have created a range of colourful Pride-themed cocktail recipes, regularly contribute to supporting charities like Stonewall and NGLCC, and were one of the early sponsors for Ru Paul's Drag Race.
H&M
Popular shopping retailer H&M has been an advocate for the LGBTQIA+ community for many years, initially starting out with the campaign 'Beyond the Rainbow'. This campaign was genius for showing true grit and emotion towards the cause. The company developed an app where people could scan any Pride flag to bring up real stories and experiences to give a voice to those who have previously been silenced.
This powerful campaign went one step further in 2022, by generating more supporters through their 'My chosen family' campaign, looking at people with extremely different backgrounds, different appearances, and different styles, who all have one thing in common — that they chose each other.
During H&M's ad campaigns, their goal is not to overtly highlight their collection, but to generate LGBTQIA+ awareness by sharing real stories from the community. To top this off, not only are they educating people about the importance of LGBTQIA+ pride, but last year the brand pledged to donate 10% of their Pride collection proceeds to the United Nations Free & Equal Campaign, who promote equal rights and fair treatment.
Indeed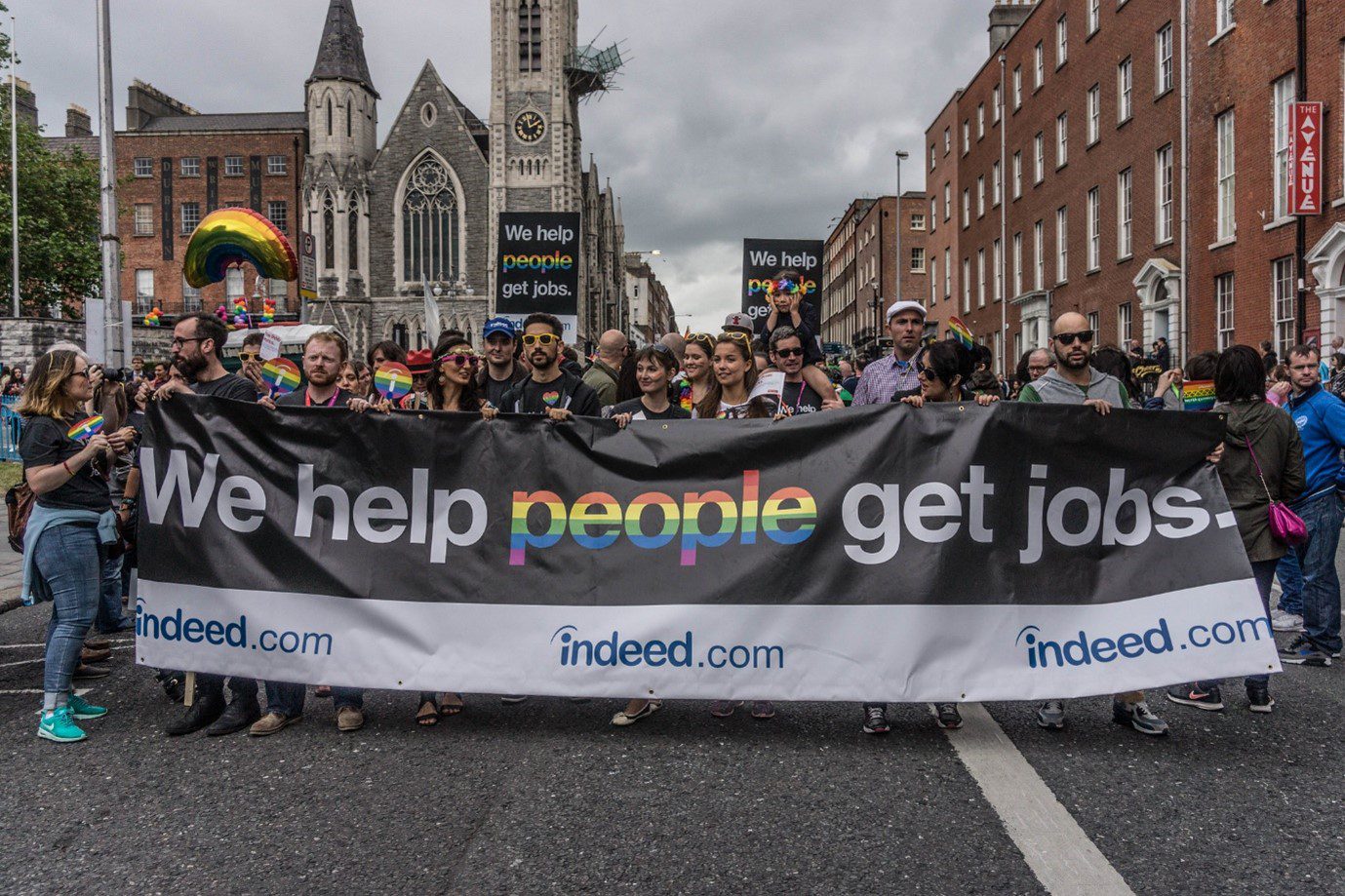 Dublin 2015 LGBTQ Pride parade, by William Murphy, CC BY-SA 2.0
Different to online retailers, recruitment specialist Indeed wanted to show their support to the LGBTQIA+ community not for commercial gain, but to highlight the importance of treating everyone equally in the workplace.
Inclusivity in the workplace is important in every industry and Indeed are going above and beyond to try and spread this lesson. Their brand message was simple, 'Pride now. Pride forever.' The purpose of this slogan is to encourage people to recognise that Pride isn't just a month, it is a movement, and that true progress will have been made when everyone in the LGBTQIA+ community is welcomed into any workplace.
In 2021, Indeed launched their campaign, 'A New Beginning', which generated an emotional response as the company aimed to teach employers about empathy at work. The video ad that was published for this campaign showed an interviewer asking the job seeker how they'd like to be addressed, with the candidate explaining they use they/them pronouns. The goal is to help employers create a more inclusive workplace — a vital message considering nearly half of LGBTQIA+ workers have faced discrimination at work.
Fossil
When creating their Pride campaign last year, Fossil went outside the box, and rather than focussing on the whole community, their strategy was aimed at young people within the LGBTQIA+ community.
The brand did what most retailers do to get involved in Pride, they developed a range of products using the Pride flag colours. However, the reason this campaign did so well is because the brand pledged a minimum donation of $100,000 to be donated to The Trevor Project, which is the world's largest suicide prevention and mental health organisation for LGBTQIA+ youth. By partnering with this well-respected charitable organisation, Fossil has positioned themselves as an ambassador for the LGBTQIA+ community.
As well as this, Fossil have a large following on social media and so used their platform to begin the #TakeAMinute initiative, which gave a voice to people during Pride Month to share their experiences within the community, discussing anything from pronouns to allyship.
LEGO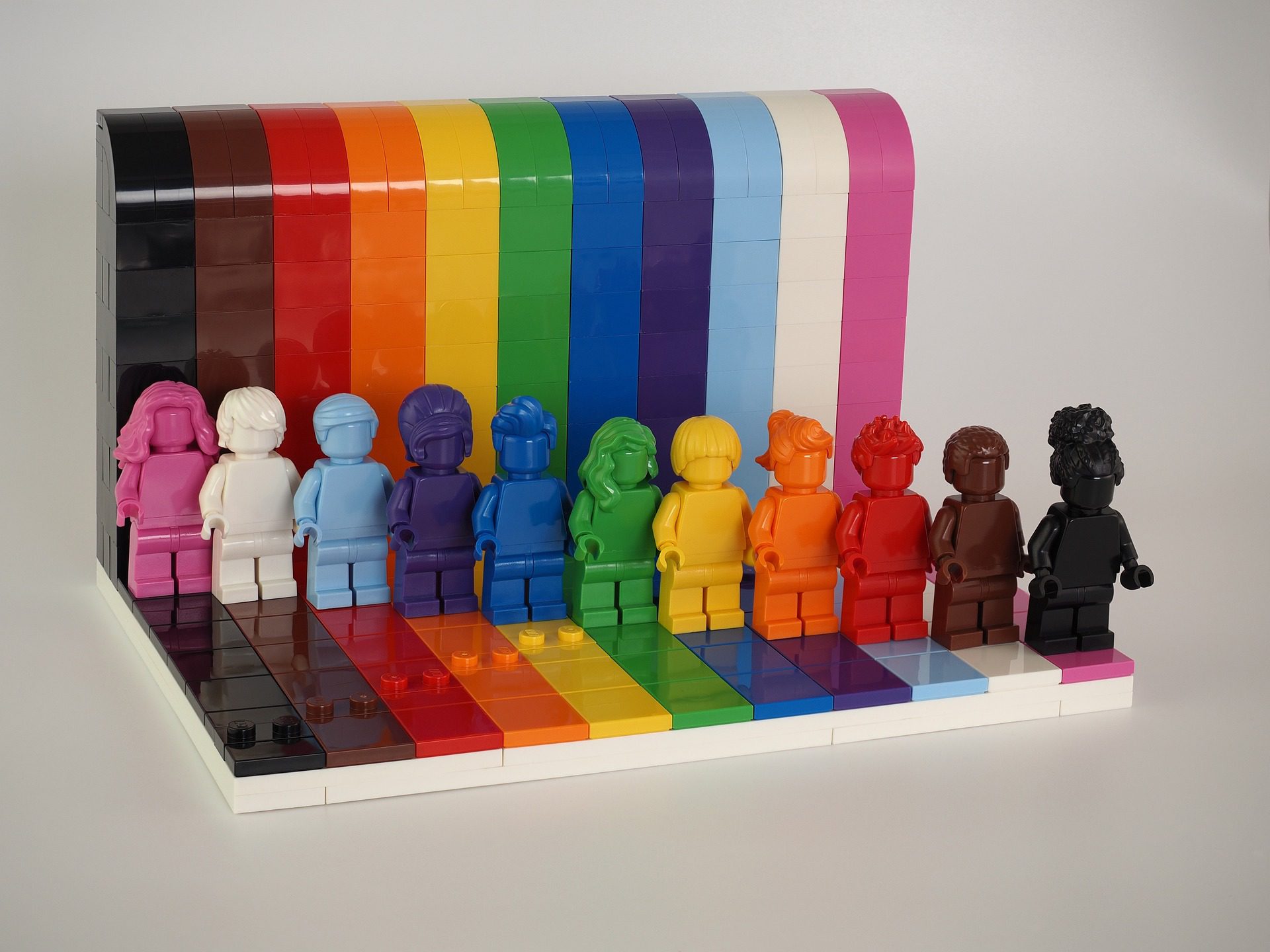 When Lego first launched its LGBTQIA+ initiative, it took the internet by storm.
The company have been recognised as having their culture at the heart of everything they do. As a brand, LEGO care about their employees and customers alike. Their integral message is to allow anyone who affiliates with the brand to have self-expression and identity that is not discriminated against in any way. It was this message that allowed their famous campaign "Everyone is Awesome" to be born.
You may recognise a similar theme song, 'Everything is Awesome', from their 2014 film — LEGO's campaign team know what they're doing when it comes to brand synergy! The 'Everyone is Awesome' campaign featured 11 monochromatic figures, each representing the colours and communities in the Pride flag to "symbolize inclusivity and celebrate everyone, no matter how they identify or who they love."
The collection is symbolic for the company as it was less about making sales and more about celebrating the inclusive company culture they have. It promotes the message that LEGO is for everyone, irrespective of gender, age, race, or how you identify.
These are just some of the brands that take action to support the LGBTQIA+ community, there are many more that are building campaigns to promote the importance of being inclusive and this is something we expect to see more of in the years to come.
If you would like to discuss your campaign strategy, get in touch with us today for a free, no obligation consultation to see if we can help.
---