What is affiliate marketing? Guide for merchants
Affiliate marketing is a form of advertising in which you (the merchant) pay the publisher (the affiliate or partner) for successfully driving traffic, leads, or conversions. This means that it works on a cost-per-acquisition (CPA) or performance-based model. In most cases, merchants arrange for publishers to promote their products and then give them a commission on every resulting sale.
Nearly 90% of advertisers say affiliate marketing is an important part of their overall marketing strategy¹. The channel accounted for 9% of marketing budget last year, and 63% of Chief Marketing Officers are planning to increase their spend in 2021².  
Read on to find out more about what affiliate marketing is, including:
How does affiliate marketing work?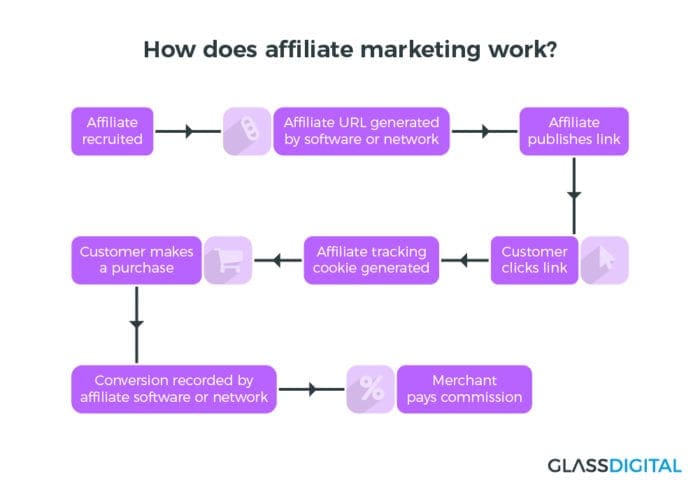 Here's how affiliate marketing works:
Affiliate recruited: The merchant forms an agreement with an affiliate who is willing to promote their business in exchange for commission on resulting sales (or other types of conversions). Affiliates are also known as partners or publishers.
Affiliate URL generated by software or network: Affiliate marketing technology is used to generate an affiliate URL or link, which is unique to the publisher and campaign. As well as sending users to the desired location on the merchant's site (usually a product page), an affiliate link creates a tracking cookie in the user's browser. This file tells the merchant which affiliate referred the user, allowing them to credit any conversions and award commission accordingly. Affiliate URLs look something like this: https://www.merchant.com/product-category/product/?a=UniqueAffiliateID
Affiliate publishes link: The affiliate promotes the merchant as agreed, using the affiliate URL to ensure their referrals can be tracked. You can find some affiliate marketing examples below.
Customer clicks link: A user sees the promotion and clicks the affiliate link.
Affiliate tracking cookie generated: An affiliate tracking cookie is stored in the user's browser, showing the merchant that they followed an affiliate link. There is a typically a 30-day cookie window, which allows publishers to claim commission on conversions made up to 30 days after the original referral.
Customer makes a purchase: In most affiliate marketing campaigns, a successful conversion occurs when the user makes a "qualifying purchase". However, merchants can reward affiliates when other types of goals are completed — for example, when the user submits an enquiry form.
Conversion recorded by affiliate software or network: When a user with an affiliate tracking cookie in their browser successfully converts, this is recorded by the affiliate technology.
Merchant pays commission: The merchant pays the affiliate the agreed commission rate. Attribution tends to work on a last-click model, whereby the last affiliate to refer the customer is awarded the commission. However, attribution modelling can be tailored to the merchant's and affiliates' needs.
Do affiliate links hurt SEO?
Affiliate links do not directly hurt or help your SEO strategy.
While many external links (aka backlinks) can boost your search performance, acting as recommendations for your site and passing link equity, this is not the case with affiliate links. Because they are paid-for and therefore not 'true' recommendations, Google aims to ignore them and ensure they do not pass link equity. The fact that the search algorithm ignores affiliate links means that they cannot hurt your SEO, either.
We therefore recommend maintaining an SEO link-building strategy alongside your affiliate programme.
Affiliate marketing examples
There are lots of ways for publishers to share affiliate links. Whenever and however they're communicating with their audience, they have an opportunity to direct traffic to your site.
A publisher can be any person or business who shares a target audience with you. For example, if you owned a pet food brand, you could work with pet magazines, dog groomers, and pet influencers on Instagram.
You will need to liaise with each affiliate to find a medium that works for you both and agree upon the creatives used. For example, you might need to provide products for a blogger review, approve a script for a podcaster, or create a special offer for a voucher site.
It's important to note that publishers must usually disclose their relationship with the merchant. The Advertising Standards Agency states: "Marketing communications must not falsely claim or imply that the marketer is acting as a consumer or for purposes outside its trade, business, craft or profession and that marketing communications must make clear their commercial intent, if that is not obvious from the context."
Voucher or deal sites
Coupon code sites drive 38% of affiliate sales³, making them one of the most popular publisher types.  
These affiliates encourage users to click their affiliate links by offering a monetary incentive to do so, in the form of an exclusive offer or voucher code.
Here, VoucherCodes would receive a commission if I were to place a valid order on The Fragrance Shop website using this link and promo code.
HotUKDeals provides a platform for users to share special offers and codes. If someone links to a partnered site, an affiliate tracking code is automatically added in the back end. Digidip's sub-network technology is used to ensure other links, wherever possible, are automatically monetised.
The ASA says: "If not otherwise clear from the overall context and presentation, promotional offers on 'voucher', 'free goods', and 'deals' websites which include affiliate links should be obviously identifiable as advertising."
Not sure whether deal sites are right for your brand? Read our post: 5 reasons to use discounts and voucher codes in your affiliate marketing campaign.
Cashback sites
Cashback sites are the next biggest driver of affiliate sales in the UK³.
These sites, including Quidco and Topcashback, encourage consumers to visit websites via their links in exchange for a share of the affiliate commission. All merchants need to do is offer an attractive-enough rate.
The ASA describes affiliate marketing on cashback sites as "obviously identifiable because of the nature of the medium".
Charity affiliate sites like TheGivingMachine and Easyfundraising work in a similar way, the difference being that a cut of the commission goes to charity rather than the customer.
Onsite content
Affiliate URLs are often linked contextually within onsite content, from product reviews and competitions to in-depth guides and news articles. Programme managers rank 'content' the second most valuable affiliate model after 'reward'⁴.
In this example, BuzzFeed have published a number of product roundups to promote Amazon Prime Day. When a reader clicks a link and makes a purchase, BuzzFeed will earn a commission from Amazon. The 'AFFILIATE' stickers are used, alongside disclaimers, to ensure ASA compliance.
In this resource, Money Saving Expert compare credit cards and link out to the ones they recommend. Asterisks are used to indicate affiliated links, which "can sometimes result in a payment or benefit to the site".
Display advertising
It is possible to arrange display advertising through an affiliate programme, whereby the publisher displays the creative on their site and receives a payment or commission for every valid action — whether it be a click, purchase or other type of conversion.
Podcasts
Affiliate marketing is a common way for podcasters to monetise their content. They will usually arrange a special offer with the merchant so that listeners are incentivised to type in and visit their unique affiliate URL.
For example, Crime Junkie followers can claim one free month of BarkBox when they sign up via the URL barkbox.com/crimejunkie. This takes users to a bespoke landing page, and you can see the affiliate tracking code (UTM parameter) generated in the redirected URL: https://www.barkbox.com/join/crimejunkie?clickid=UnYVudQIwxyJWOiwUx0Mo3EzUklX7eUlGSqSX80&ircid=1369&utm_campaign=BB_affiliate.impactradius.Performance%20Bridge%20Media&utm_medium=CPA&utm_source=affiliate&subid=
As well as reading them out through ads in their podcasts, Crime Junkie share affiliate URLs and codes on their website. This gives them an extra opportunity to drive conversions and earn commission.
Social media
One of the most common ways for publishers to share affiliate codes and links is through social media, including Instagram, Facebook and Twitter. These are usually tagged with #ad to ensure compliance with ASA regulations (although many #ad posts are endorsements as opposed to affiliate ads).
Comparison sites
Comparison websites like PriceRunner, uSwitch, and Compare The Market are designed to help consumers find the best prices on products and services, and usually earn a commission for every customer they successfully refer.  You can read the ASA rules for price comparison websites here.
Videos
YouTubers, Twitch streamers, and other vloggers can share affiliate URLs and codes through their videos or add affiliate links to descriptions and bios.
How to start an affiliate programme
To start an affiliate programme, you will need:
technology to handle aspects like link generation, conversion tracking, and commission payments; and
an affiliate manager to decide on and execute your affiliate strategy.
There are lots of options out there, with the right mix depending on factors like your business budget and goals, but there are three main models used:
Affiliate network: Sign up to an affiliate network and manage the programme in-house.
Affiliate software: License affiliate software and manage the programme in-house.
Affiliate agency: Hire an affiliate agency to manage your programme using affiliate networks and software.
 
Affiliate network
Affiliate software
Affiliate agency
What is it?
Affiliate networks act as intermediaries between merchants and publishers. When you sign up, you have access to their 'marketplace' of affiliates, as well as tools to help you manage partnerships with them.

 

There are also sub-affiliate networks, which automatically monetise links pointing from enrolled publishers to enrolled merchants.

Affiliate software provides the technology needed to manage an affiliate programme with any publisher.

 

They vary in complexity, from plugins that handle the essentials to enterprise-level tools that allow superior control and better insight into performance.

Affiliate agencies manage your affiliate programme on your behalf.

 

They will typically use multiple affiliate networks as well as enterprise-level affiliate software.

Affiliate recruitment
Affiliate networks can provide access to a wide range of publishers. They also allow publishers to sign up for your programme themselves.

 

As an example, Awin, one of the biggest networks, has over 200,000 active publishers on its books.

However, it's important to bear in mind that not all affiliates on the network will be relevant to your brand — or willing to work with you. And you won't be able to build relationships with publishers outside the network using this model.

When using affiliate software, you will need to recruit publishers yourself, as there's no 'little black book' included.

 

The lack of a pre-existing contact list can make it more difficult to form partnerships. On the other hand, you have the freedom to contact any publisher and build a partnership with them.

Agencies typically use multiple networks, giving them access to a large pool of active publishers. They also use affiliate technology to build partnerships with publishers outside these networks.

 

Because they can draw on existing relationships with affiliates, agencies tend to be the most successful recruiters. They can also use their enhanced experience, influence, and insight to help secure partnerships.

Management
You will usually have access to an account manager, who may give some strategic support. However, they tend to have a large client list, so won't have a great deal of insight or investment in your programme.

 

So, the success of your programme will largely depend on your in-house team.

The tools available through a network means it is possible to run a profitable programme with limited time and experience. However, someone with more time and expertise should be able to secure a higher volume of opportunities and improve profitability.

Affiliate software is more technically demanding than a network interface. Plus, because there is no network to draw on, your in-house team will be directly responsible for recruiting affiliates.

 

As such, if you want to use affiliate software in-house, it's recommended that you hire an experienced and dedicated affiliate manager.

Your affiliate agency should use their expertise and insight to make strategic recommendations and decisions on your behalf.

 

While a grasp of the basics will be helpful, and a certain level of input will be required, you shouldn't need much affiliate marketing expertise or resource in-house.

Costs
Every time you pay the agreed commission to an affiliate, you will also pay a transaction fee to the network.

 

It is likely that you will also need to pay a network joining fee and monthly subscription charge.

You will need to account for the cost of in-house management, too.

Typically, you will pay the technology provider a one-time fee for a software licence.

 

You will also need to pay commissions and any associated transaction charges, as well as accounting for the cost of in-house management.

Affiliate agencies will usually take a cut of the commission on each conversion. This is known as the override rate.

 

You will likely need to pay the agency a set-up fee and monthly management fee, too.

Examples
Awin, Rakuten LinkShare, and CJ Affiliate.
Partnerize, Impact Radius, and CAKE.
Read about our affiliate marketing service.
Benefits of affiliate marketing for the merchant
Now that you know what it is and how it works, you should have a good idea of the benefits of affiliate marketing for the merchant. Here's a quick summary:
Low risk: Affiliate marketing is a form of performance marketing, which means you only pay for a successful conversion. And, because you can decide on commission rates and which types of transaction are valid, you can protect your profit margins.
Low energy: It depends on the model you use, but affiliate marketing is relatively low energy. Because you're incentivising publishers to promote your products, they do a lot of the hard work for you.
Valuable insights: You can learn a lot from the performance of your affiliate programme and apply these insights to other marketing channels. For example, if your Facebook ads drive the most conversions, this could be a good area to focus your organic social media efforts.
Valuable exposure: Even when an affiliate ad doesn't drive an attributable conversion, that doesn't mean it hasn't benefitted the merchant. In most cases, you're generating valuable brand exposure — perhaps in the form of influencer endorsements or positive reviews. And that doesn't cost you a penny.
New audiences: As you saw in the affiliate marketing examples above, affiliate marketing can be used across lots of different channels and mediums. This allows you to connect with your target audience in new ways and reach customers you wouldn't have otherwise.
If you're looking for an affiliate marketing agency that can help to devise a profitable strategy for your business, contact us to find out how we can assist you!
---
Sources
[1] https://digitaglobal.com/state-us192-billion-digital-advertising-industry/
[2] https://www.gartner.com/en/marketing/research/part2-the-annual-cmo-spend-survey-2020
[3] https://www.awin.com/awin-report/2021/global/2020-review/uk/
[4] https://www.iabuk.com/news-article/study-50-marketers-saw-increase-affiliate-spend-2020
---