You can now link Search Console domain properties to Google Analytics
Google has refreshed Search Console with a new associations function that allows businesses to link domain properties to Analytics for more insightful and comprehensive reports of site success.
These associations are connections between the Search Console property and one used in a different Google service or platform, such as Ads or Analytics. The type of association you establish within Search Console will dictate the metrics you have access to and what you're able to monitor and control. For example, creating a Google Analytics association means you can share your performance data with the associated Analytics property.
What's changed?
Previously, Search Console was able to support and establish associations between itself and other Google platforms, but you weren't able to link Search Console domain properties to Google Analytics. But, starting today, this is now an option, meaning marketers will have access to enhanced performance data that can help them to make better-informed decisions about next moves and what direction to take a site in.
The new and enhanced associations page will also support the follow connections:
Google Analytics – To view your Search Console data in Google Analytics
Google Ads – To view paid and organic reports in Google Ads
YouTube channel – To link your YouTube videos to your associated website
Play Console app – To use App Indexing
Actions Console project – To verify your brand and allow it to function across platforms
Chrome Web Store account – To publish apps and extensions to your Chrome Web Store
You can find the updated associations functionality through the settings menu in Search Console, and it should look something like this: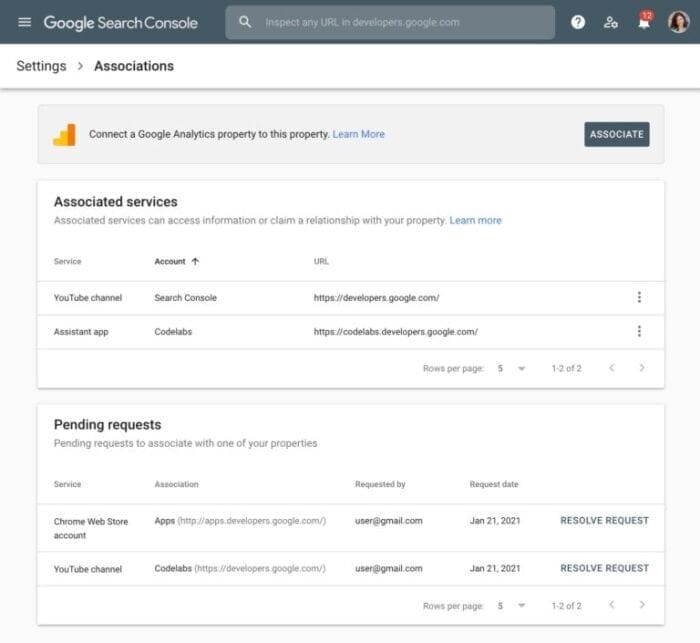 Please note: Any existing associations will be carried over by Google to the new page, so you won't have to worry about losing any connections already established.
What does this mean for marketers?
While it's certainly helpful to have an updated Associations page that you can dip in and out of as you need, it's also invaluable for providing more data and information — and not just in Search Console, but also the many other Google services that can link up to it.
Google has claimed that associating your site with Google services can "unlock more functionality for your site". So, whether you use this new feature to monitor and adjust your organic search strategy and performance in Google Ads, or you focus on another purpose, this update can help you to gain a much wider view and better insight of your data across multiple Google services.
Google regularly makes changes to improve tool functionality and streamline account management for business users. Other recent examples include making RSAs the default in Google Ads and adding desktop messaging support to Google My Business.
How to set up an association
Association is a handy tool to use within Search Console as it allows you to link with other Google accounts you regularly need access to or insights from.
All association requests (bar Analytics) need to be created within the Google product (such as Ads) that will be requesting association with your site. It's usually done in three simple steps:
The property owner of a separate Google service will request association with your site's root URL via means of a separate entity, e.g. a YouTube channel.
Search Console will send notification of the request to all property owners of the matching Search Console property.
The property owner gets the notification and approves or denies the request. If the owner and approver hold the same Google account, the request is automatically approved without any notification.
To learn more about associations, visit Google's help forum for associations.
Here at Glass Digital, we are dedicated to helping our clients keep up with Google updates so they can improve their Google rankings and maximise Google Ads ROI. For more information, or to organise a free consultation, get in touch today.
---