SEO news & Google updates: March 2017
March 2017 saw a whole host of developments in the world of SEO. Google released a new algorithm ranking update, rolled out rich cards beyond the US, and announced that it would put more effort into flagging upsetting or offensive content.
To ensure you're up to date with what's been going on in the digital marketing industry over the last month, we've pulled together some of the most important stories from March 2017. And, to help you adapt to any recent developments, we've looked into how each one could affect your business. Read on to learn more.
Google Home is coming to the UK this April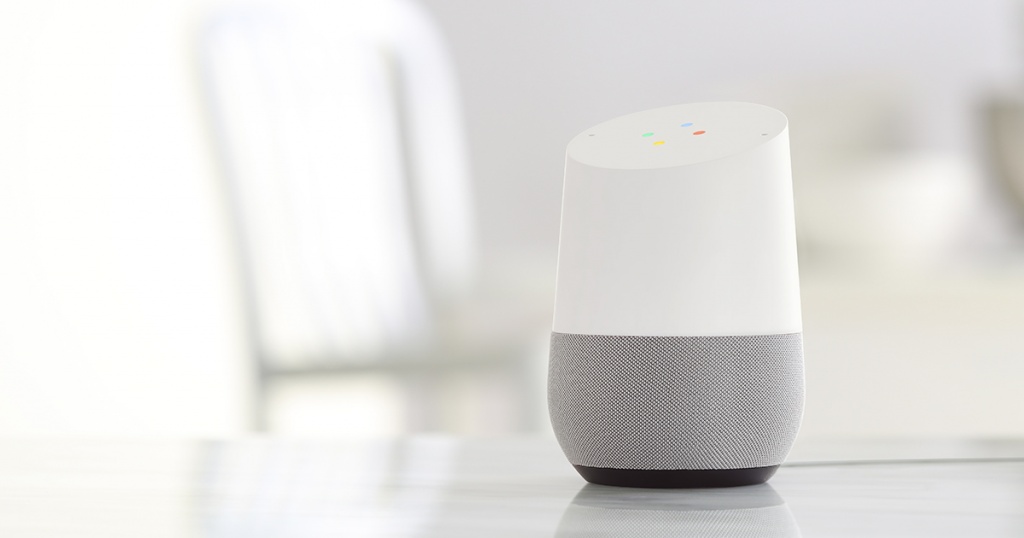 © Google
Google released its voice-activated smart speaker, Google Home, in the UK on April 6. Powered by Google Assistant (a system similar to Siri and Cortana), Google Home can give you reminders, let you know what the weather is like, and tell you how old your favourite celebrity is. Users simply have to say "Okay, Google" to activate it.
This means voice searches will be up, and that could mean big things for search marketers. Read our post about the potential impact of Google Assistant on SEO to find out more.
Google 'Fred' update rolls out
On March 8, Google rolled out an algorithm ranking update that has since been dubbed 'Fred'. As Google didn't speak about this publicly, SEOs were left to come to their own conclusions about what this update meant. Articles initially thought rank fluctuations were link-quality related but, now that the dust has settled, it seems that the Fred update was actually put in place to target ad-heavy, low-value content sites.
Search Engine Roundtable conducted an experiment to review 70 sites that were hit by the Fred update, and found they all had two things in common: they were content driven, and heavy on their ad placement. It was also noted that many of these sites seemed to have been set up with the sole purpose of generating income from ads, rather than to benefit users.
Google launches location extension ads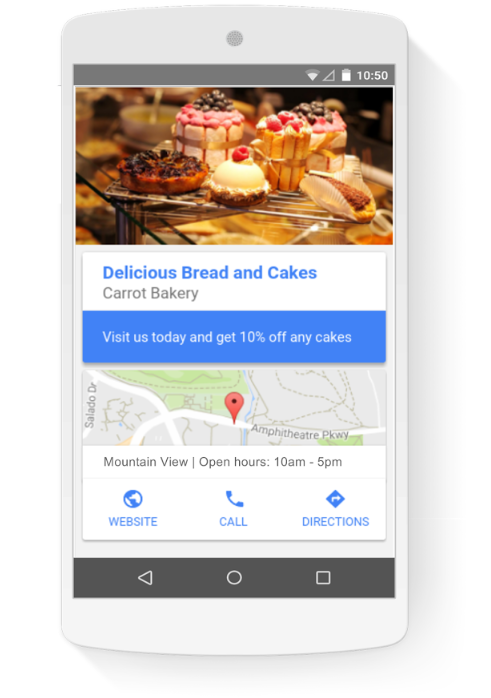 © Google
On 14 March, Google debuted a new display ad format for showcasing local business photos, store locations, and business hours. It also allows businesses to add copy and a headline to their ads. Google said that this would make ads more useful for shoppers who are nearby or might be interested in your business: "For example, a foodie browsing cooking blogs might see local information for a bakery, making it easy for her to visit your physical store and make a purchase."
So, if you would like to improve your visibility and target a wider audience, location extension ads could help you do so. If you would like more information on how to set this up, check out this AdWords guide to creating display ads with location extensions.
Google announces effort to flag inaccurate or offensive content
Google wants to stop upsetting, offensive, or inaccurate content from crowding out factual and trustworthy information in its SERPs. Therefore, it is launching a new effort to identify problematic content.
This new initiative will involve Google's team of quality raters, which is made up of more than 10,000 contractors who are scattered across the globe. They use a set of guidelines, which is almost 200 pages long, to assess web pages that appear in the top results of common searches. These people are tasked with deciding whether the results they review meet the needs of those searching, and identify any content that is deserving of the new 'upsetting-offensive' flag. This means that users will be better protected against offensive content — or, dare we say it, "fake news" — and valuable, trustworthy content should become more visible.
Google expands rich cards beyond the US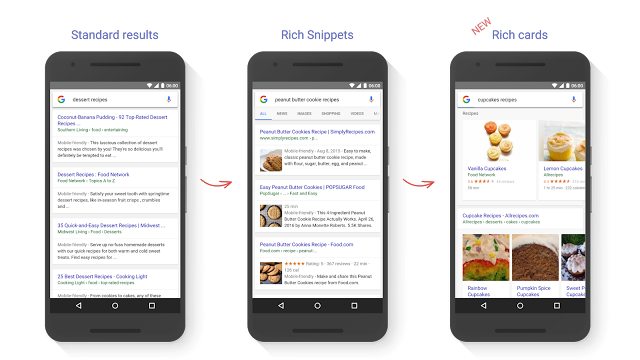 © Google
Rich cards were launched in the US back in May 2016. On 28 March, Google updated its original announcement to say that they are now available worldwide.
Rich cards offer a new way to present previews of content on SERPs. Like featured snippets, rich cards use schema.org structured markup to present content in a more engaging and visual way. To begin with, they were only launched for recipes and films, but Google has since announced that it is "actively experimenting with new verticals", and has already expanded to include local restaurants and online courses.
If you're a site owner who would like to take advantage of this new feature, you need to think about how you can make your content more visual. For example, if you publish recipes, you can create richer previews of your content with prominent images of the finished dishes. This way, users will find what they're looking for straight away, and you'll be more likely to get visitors who will find your content valuable.
So, there you have it: five of the biggest SEO and digital marketing developments from March 2017. Consider yourself updated! We'll be back with another news bulletin next month to let you know what happened in April.
In the meantime, we post daily updates on Twitter, Facebook, and LinkedIn. So, give us a follow if you would like regular industry updates.
---