In our 2017 SEO forecast, we highlighted the influence Google's featured snippets are set to have on the world of search in the coming year. However, despite their potential impact on the future of SEO, there's still plenty of confusion surrounding 'position #0'.
In this article, we'll explain exactly why featured snippets matter to you and how you can earn them with your onsite content.
What is a featured snippet?
A featured snippet is a box that sits above the organic search results on a Google results page. It contains the information that Google thinks best answers the searcher's query, as well as the title tag and URL of the page it is pulling the information from. For example, a search of "How to make scones" brings up the following featured snippet: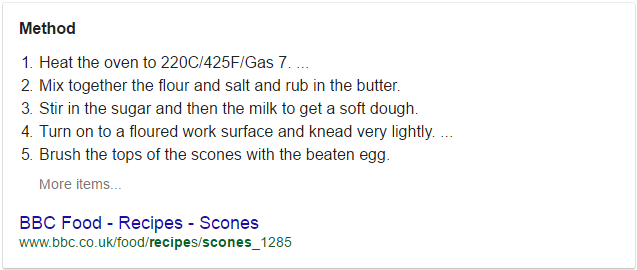 Why should you care about earning featured snippets?
There are concerns that featured snippets will have a negative impact on organic traffic: if Google is displaying all the information someone needs right there at the top of the search results, why would anyone click the link and visit the site? And if no one is clicking through to the website that holds the featured snippet, why would you waste time, energy, and resources on earning that spot?
However, a case study from Search Engine Land suggests that a page that earns the featured snippet could see a huge boost in organic performance. One site experienced a 516% increase in sessions after claiming the featured snippet for a high-value keyword. Furthermore, the page's click-through rate rose from 2% to 8% after earning the spot.
Of course, this single example isn't enough to prove or disprove anything, and only time will tell the impact earning the featured snippet will have on a page's organic performance. However, one thing to keep in mind is that if you don't sit in the featured snippet for your target keywords, one of your competitors probably will, and any benefits that come from holding this spot will go to them.
If you still fear searchers are going to find all the information they need inside a featured snippet you've claimed and therefore not click through to your site, bear in mind that most queries can't be answered in their entirety in a snippet box, which only has a 40–50-word capacity. This means Google users are going to have to click through to your site if they want the full story, which is likely given that they've gone out of their way to search for the answer.
Sitting in position #0 for one of your target keywords will help increase your brand awareness if nothing else, while the content you've produced to answer the question will have other SEO and marketing benefits as well.
Moreover, research from STAT suggests that the number of SERPs with a featured snippet is on the rise, increasing from 9% in January 2016 to 15% just 6 months later. And with Google Assistant using featured snippets to provide instant answers, it's safe to assume this number is going to continue to rise.
The research so far suggests that claiming the featured snippet for a popular search term within your niche can have a huge benefit on your organic search performance. It's therefore important to turn your attention to them now so you can get a head start on the competition.
How do you earn a featured snippet?
Now you understand the value of earning the featured snippet for those high-value keywords, let's take a look at how you can claim them through your content.
Do your keyword research
The first step in increasing the number of featured snippets you rank for is to find out what people are commonly searching Google for around your target keywords. You can do this using your keyword research tool of choice.
Start collecting a database of the common Google queries within your space. Analyse the content that's currently ranking for the featured snippets in these queries: is it relevant? Is it well-written and optimised? Does it answer the question properly?
If the answer to any of these questions is no, then you've got a good chance of usurping that content.
Focus on format
To give your content the best chance of claiming the featured snippet, you should be very careful about the way you format it.
Firstly, the search term you're trying to rank for should be formatted as a heading on the page. You'll often find that the keyphrase you're targeting reads unnaturally — "Why dogs lick paws", for example. If this is the case, prioritise readability over getting an exact match with the keyphrase, turning that example into "Why do dogs lick their paws?".
A featured snippet box contains between 40 and 50 words, so you need to make sure the first few sentences of your answer hook the reader and entice them to click through to your site. The content that you want to appear in the featured snippet should sit just below the heading that's based on the target query.
When writing this content, you should also think about what format would be most useful to the searcher. For example, someone searching 'How to change a tyre' would benefit from a numbered list that details the steps involved in the task. The query 'Why does ice float?", on the other hand, would be best answered by a descriptive paragraph. If you're unsure what format would best answer the question, look at the content that currently owns the featured snippet, as that should give you an idea of the type of content Google is prioritising for this query.
Once you've decided which format is going to give you the best chance of claiming the featured snippet, make sure you use the proper HTML to mark up your content, or else the effort you've put into choosing the most appropriate format will go to waste.
Optimise your structured data
The behind-the-scenes code that helps Google understand the structure of your content was initially considered a major ranking factor when it came to featured snippets, but this has since been played down by several big figures in SEO. However, making sure the data that lies underneath your page is as clean a possible is almost certainly not going to hurt your rankings, so be sure to follow Google's structured data guidelines to help the search engine correctly index your page.
Make sure the rest of your SEO strategy is sound
As research by Moz found that the vast majority of featured snippets were drawn from pages within the top 5 organic results of the SERP, the last piece of the featured snippet puzzle is making sure the rest of your SEO strategy is sound.
While achieving a strong organic ranking for your chosen keywords depends on a lot more than what I've discussed in this article, the tips detailed here will take you well on your way.   
For more advice on writing content that ranks, take a look at some of our previous articles, which will teach you the power of giving away your brand 'secrets' and what chart-topping songs can teach you about crafting great content.
If you want help with your overall SEO strategy, contact us today for a free site survey.