Google launches new Page Experience report for quicker site evaluations and improvements
Just this week, Google announced it would be applying the brakes to the full Page Experience update that was set to go live in May 2021, with the rollout expected to be completed by August. However, a Page Experience report has just launched in Search Console, and more features will be trickle-released over the coming months.
This new report will allow marketers to access more valuable insights into how their site pages are performing, giving them plenty of opportunities to improve their onsite SEO and, ultimately, their rankings in the SERP.
Want to learn more? In this blog post, I delve a little deeper to show you how this new report can benefit your business and boost your online presence.
About the new report
The new Page Experience report comes as part of the overall Page Experience update that will combine three Core Web Vitals metrics: Largest Contentful Paint (LCP), First Input Delay (FID), and Cumulative Layout Shift (CLS). These will act alongside other features like HTTPS security and mobile friendliness to decipher how well each page is performing and give you accurate details about them.
To do this, the report will offer information on aspects like:
The percentage of URLs with a good page experience rating
Search impressions over time to show how relevant these were to searcher intent
Page experience signal to gain more insights on how to improve your pages
The update will look like the below: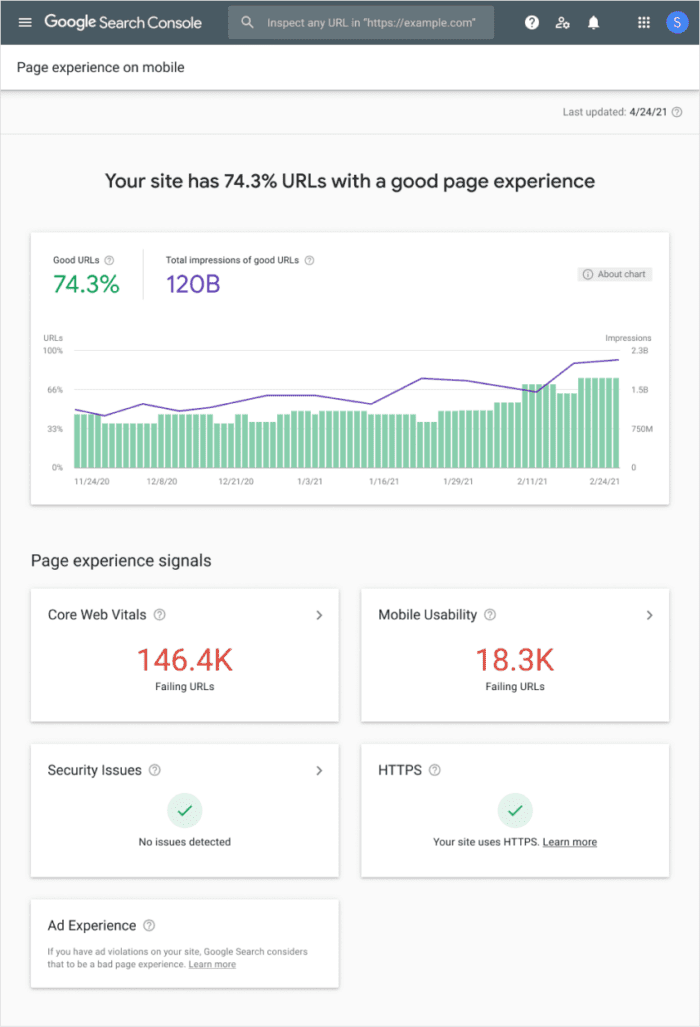 What does this mean for marketers?
Although this is just one part of the complete Page Experience update, the arrival of the report means there is an initial opportunity to get to grips with the new features and take advantage of the insights you can already start acting on.
For one, access to more in-depth insights for each of your pages will give you better opportunities to analyse performance and see what needs altering with your technical SEO strategy.
Want to keep up to date with all the latest Google updates to enhance your organic search strategy? Here at Glass Digital, we can help you keep up to speed with everything you need to know and improve your SEO results. Why not get in touch for a free consultation with one of our organic search experts?
---